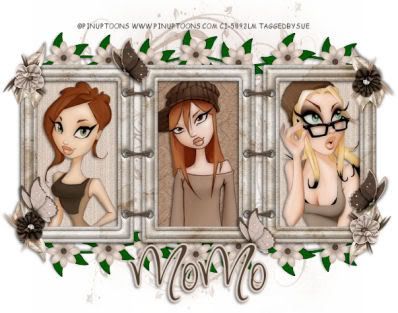 You must have working knowledge of PSP..
PSP9 any version will work..
Tubes of Choice: I am using the fantastic artwork of Pinup Toons..
You must have a license to use his artwork which you can purchase HERE..
Mask of Choice: I am using EonSabreMask HERE..
Font of Choice: I am using Inspiration..
EyeCandy 4000 - Gradient Glow (optional)
Open a new image 600x600 and flood fill white..
Paste Frame#5 as a new layer and resize by 60%..
With your magic wand click inside one of the frames selections modify - expand by 5..
Paste a paper of choice selections invert - delete..Do not deselect..
Paste your tube as a new layer place inside the marching ants hit delete selections none..
Add Xero - Porcelain with the default settings to your tube then add a drop shadow..
Move these two layers below the frame..
Now do this with your other 2 frames..
Making sure your frame is the top layer add a drop shadow..
Add any elements you wish..
Now to add your mask..Highlight your bottom layer..Paste a paper of choice..
Load mask - delete mask layer - merge group..
With a font of choice add your name and a drop shadow..
Add the correct copyright..
Crop excess white and resize..
Save as a png or a jpeg..
Thank you for trying my tut any feedback would be welcome..I would love to see what you have created..
Written by Sue April 1st 2009..
Any resemblance to another tut is coincidental..
This tut has been registered with TWI