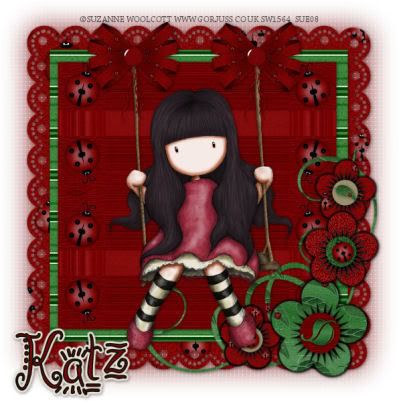 You must have working knowledge of PSP..
PSP9 any version will work..
Tube of Choice: I am using the gorgeous artwork of Suzanne Woolcott..
You must have a license to use her artwork which you can purchase HERE..
Scrap Kit of Choice: I am using the awesome PTU kit "LadyBuggies" by KatzScrapz..Which you can purchase HERE..
Template: Frame Template 1 by Frosted Illusions HERE..
Font of Choice: I am using RugeBoogie..
Open your template shift D and delete the original layer...Also delete the copyright layer..
Highlight your background layer Image - canvas size increase to 650x650 flood fill white..
Highlight your Frame Outer layer select all - float - defloat..Paste paper of choice selections invert - delete selections none..Add a drop shadow and delete the original..
Now do this with the other layers..On the flower layers I added a gradient glow to my bottom flower layer to make them stand out better..See my tag for reference..
Add your tube and a drop shadow..
Add any elements you wish..
Now highlight Raster layer 1 duplicate it..On the original Adjust - Gaussian Blur settings at 20..Then add Texture - Weave with the following settings: Gap 1 Width 5 Opacity 100 Weave colour 860c0c Gap colour white and fill gaps checked..
With a font of choice ass your name..I also added a gradient glow and a drop shadow..
Crop excess white and resize..
Save as a png or a jpeg..
Thank you for trying my tut any feedback would be welcome..I would also love to see what you create..
Written by Sue March 4th 2009
Any resemblance to another tut is coincidental..
This tut is registered with TWI