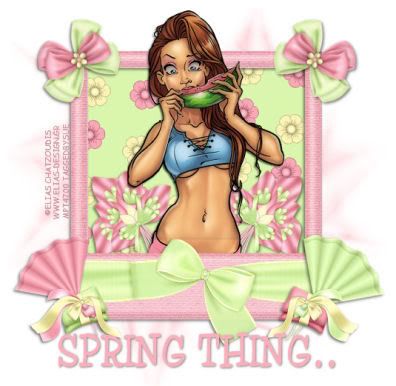 You must have working knowledge of PSP..
PSP9 any version will work..
Tube of Choice: I am using the gorgeous artwork of Elias Chatzoudis..
You must have a license to use his artwork which you can purchase HERE..
Scrap Kit of Choice: I am using a FTU kit "Spring Time Blog Train" by Diva's Creations HERE..
Mask of Choice: I am using Vix_Mask110 HERE under goodies..
Font of Choice: I am using INK..
Open a new image 600x600 and flood fill white we can crop later..
Paste Frame 3 as a new layer resize it by 40%..
With your magic wand click inside frame selections modify - expand by 10.. Paste a paper of choice selections invert - delete selections none..
Move this below your frame layer..
Paste your tube as a new layer positon it so it looks like its coming out of the frame..
With your eraser tool remove any part that is overlapping on the bottom of the frame..See my tag for reference..Add a drop shadow..
Add any elements you wish..
Now to add your mask..Highlight your bottom layer..Paste a paper of choice..
Load mask - delete mask layer - merge group..
With a font of choice add your name and a drop shadow..
Add the correct copyright..
Crop the excess white and resize..
Save as a png or a jpeg..
Thank you for trying my tut any feedback would be welcome..I would love to see what you have created..
Written by Sue March 28th 2009..
Any resemblance to another tut is coincidental..
This tut is registered with TWI..